Mission Statement
The Center for Vision Science: Mission Statement
The University of California at Davis is home to one of the largest and most successful assemblies of Vision Research faculty, and Ophthalmic Care providers in the nation. Faculty are drawn from 16 departments in 5 schools and colleges, including the School of Medicine, School of Veterinary Medicine, College of Biological Sciences, and College of Engineering. This team includes a wide array of expertise including molecular biologists, psychologists, physiologists, neuroscientists, mathematicians, engineers, and clinical ophthalmologists from both human and veterinary medicine. The UC Davis Center for Vision Science was created to catalyze interactions between and among researchers and clinicians from different disciplines to advance our understanding of the visual system, and how to prevent, diagnose and treat diseases of the Visual System.
National Eye Institute director and vision scientist, Paul Sieving to join UC Davis faculty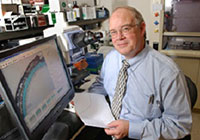 UC Davis Health has recruited the internationally recognized director of the National Eye Institute, Dr. Paul A. Sieving, to join the faculty for its Sacramento-based eye center.
Sieving has led the National Eye Institute, one of 27 institutes and centers within the U.S. National Institutes of Health, since 2001, and in that capacity, he managed an $800 million budget that supported 550 physicians, researchers and staff.
Read more on Sacramento Bee »
This news article can also be found on UC Davis Health news page »