Collaborators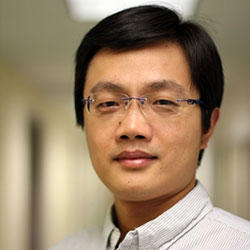 Yuanpei Li, Ph.D.
Dr. Yuanpei Li is a tenured Associate Professor in the Department of Biochemistry and Molecular Medicine at the University of California, Davis. He is also a full member of the Cancer Therapeutic Program at the NCI-Designated Comprehensive Cancer Center at UC Davis. His research group has developed a series of novel multifunctional nano-medicine platforms for early cancer detection, effective cancer therapy and minimizing the side-effects of chemotherapeutic drugs. Currently Dr. Li's research group is aiming to 1) develop next generation nano-medicine platforms and novel therapeutics by learning from Mother Nature and clinical practices, 2) obtain fundamental knowledge on how these subjects interact with biological systems, and 3) apply them to solve complex medical problems that are associated with cancer and other diseases. These research projects integrate recent advances in interdisciplinary fields, such as nanotechnology, medicinal chemistry, material sciences, engineering and biology, to create innovative technologies and therapeutics. Significant efforts have also been devoted to the rapid "bench to bed side" translation of these innovative technologies and therapeutics that can tremendously benefit the health of human and companion animals. The group is particularly interested in the following research area:
Targeting and programmable drug/gene delivery
Medicinal chemistry for drug development
Theranostics
Enabling technology for immunoengineering
New biomaterials/bio-inspired materials
We are also interested in new isolation, drug discovery & development, targeting delivery and engineering technologies that are related to stem cells, autophagy and exosomes/oncosomes from clinical patients.
Ai-Hong Ma, M.D., Ph.D.
Email: ahmma@ucdavis.edu
TEL: (916) 703-5081
Current Position
Associate Project Scientist, Department of Biochemistry and Molecular Medicine, School of Medicine, UC Davis
Education
M.D., Peking University Health Science Center, Beijing, China, 1989
Ph.D., Case Western Reserve University, Cleveland, OH, 1999
Postdoctoral Fellow, University of California at Davis, Davis, CA, 1999-2004
Honors and Awards
Young Investigator Award, American Association for Cancer Research, 1998
Alexander Hollander Student Award, Environmental Mutagen Society, 1999
Postdoctoral Fellowship, Department of Defense, 2001-2003
Research Interests
Molecular and Cellular Biology of Cancer: protein kinases, microRNAs, signal transduction.
Cancer Therapeutics: small molecular inhibitors, cancer-specific peptides targeting, molecularly targeted therapies, immune therapies, chemotherapies, nanotherapies, patient-derived cancer models.
Biography
Dr. Ai-Hong Ma is an Associate Project Scientist in the Department of Biochemistry and Molecular Biology at UC Davis. As a cancer researcher, she has more than 20 years of experience conducting research in molecular and cellular biology of cancer and published more than 30 papers in peer-reviewed journals. Her current focus is on developing targeted therapies and immunotherapies using patient-derived cancer models. She conducts basic and preclinical studies and facilitates PIs to translate these studies into clinical applications. As a team member she provides her broad expertise and supervises junior researchers in the research team. Besides bench work, she also helps PIs communicating with collaborators, coordinating research activities, monitoring grant progress and preparing publications in peer-reviewed journals.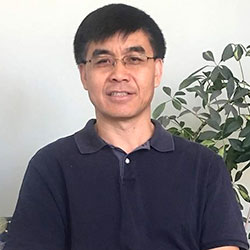 Hongyong Zhang, Ph.D.
Email: hyzhang01@gmail.com
Current Position
Associate Project Scientist
Education
Ph.D. (Preventive Veterinary Medicine) from the Jilin University (2003).
Current Projects
Potentiation of Immunotherapy with targeted nanoporphyrin in bladder cancer
Targeting nanotherapeutics against bladder cancer.
Targeting nanoparticles to eradicate leukemia stem.
Selected Publications
2017 Fuli Wang, Hongyong Zhang, Ai-Hong Ma, Weimin Yu, Maike Zimmermann, Jun Yang, Sung Hee Hwang, Daniel Zhu, Tzu-yin Lin, Michael Malfatti, Kenneth W Turteltaub, Paul T Henderson, Susan Airhart, Bruce D Hammock, Jianlin Yuan, Ralph W de Vere White, Chong-Xian Pan. COX-2/sEH Dual Inhibitor PTUPB Potentiates the Anti-tumor Efficacy of Cisplatin. Molecular cancer therapeutics, Dec 28, 2017(DOI: 10.1158/1535-7163)
2016 Amy Pan, Hongyong Zhang, Yuanpei Li, Tzu-yin Lin, Fuli Wang, Joyce Lee, Mingshan Cheng, Marc Dall'Era, Tianhong Li, Ralph deVere White, Chong-Xian Pan and Kit S Lam. Disulfide-crosslinked nanomicelles confer cancer-specific drug delivery and improve efficacy of paclitaxel in bladder cancer. Nanotechnology, 2016, 27: 425103. doi:10.1088/0957-4484/27/42/425103
2015 Chong-xian Pan, Hongyong Zhang, Clifford G. Tepper, Tzu-yin Lin, Ryan R. Davis, James Keck, Paramita M. Ghosh, Parkash Gill, Susan Airhart, Carol Bult, David R. Gandara, Edison Liu, Ralph W. de Vere White. Development and Characterization of Bladder Cancer Patient-Derived Xenografts for Molecularly Guided Targeted Therapy. PloS One, 2015 Aug 13;10(8):e0134346
2014 Hongyong Zhang, Yuanpei Li, Tzu-yin Lin, Kai Xiao, Ashraf S. Haddad, Paul T. Henderson, Brian A. Jonas, Mingyi Chen, Wenwu Xiao, Ruiwu Liu, Kit S. Lam, Chong-xian Pan. Nanomicelle Formulation Modifies the Pharmacokinetic Profiles and Cardiac toxicity of Daunorubicin. Nanomedicine (Lond), 2014, 9(12): 1807-20
2012 Hongyong Zhang, Juntao Luo, Yuanpei Li, Paul T Henderson, Yanchun Wang, Sebastian Wachsmann-Hogiu, Weixin Zhao, Kit S. Lam, Chong-xian Pan. Characterization of high-affinity peptides and their feasibility for use in nanotherapeutics targeting leukemia stem cells. Nanomedicine: Nanotechnology, Biology and Medicine, 2012 Oct; 8(7): 1116-1124
2012 Hongyong Zhang, Olulanu H. Aina, Kit S. Lam, Ralph de Vere White, Christopher Evans, Paul Henderson, Primo N. Lara, Xiaobing Wang, James A. Bassuk, Chong-xian Pan. Identification of a bladder cancer-specific ligand using a combinatorial chemistry approach. Urologic Oncology, 2012 Sep;30 (5): 635-645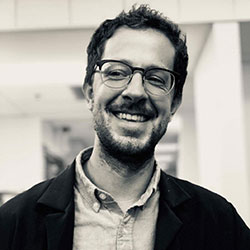 Randy Carney, Ph.D.
Prof. Randy Carney performs research at the intersection of materials science, photonics, and molecular biology. His main avenue of research involves nanoscale vibrational Raman spectroscopy methods for diagnostic profiling of extracellular vesicle subpopulations in ovarian cancer. In his spare time, he enjoys playing music and cooking.
Publications
http://scholar.google.com/citations?hl=en&user=DnAFraUAAAAJ&view_op=list_works
ResearchGate
https://www.researchgate.net/profile/Randy_Carney
Twitter