Graduate Students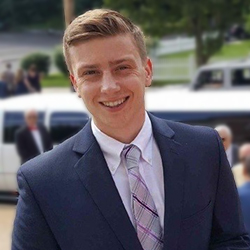 Chris Baehr
Chris Baehr is a biomedical engineering PhD student specializing in self-assembling peptide nanoparticle platforms for cancer therapy, in addition to merged optical coherence tomography and scanning laser ophthalmoscopy for live in vivo imaging of drug fate. He obtained his B.S. in biomedical engineering at The Ohio State University where his research focused on hemoglobin biopolymers. Outside of the lab Chris worked as the Biomedical engineering student association outreach chair, where he organized STEM focused outreach events for the local community. In his free time Chris enjoys skiing, rock climbing and backpacking.
Selected Publications and Presentations
Mixtures of tense and relaxed state polymerized human hemoglobin regulate oxygen affinity and tissue construct oxygenation, Uddyalok Banerjee, Donald Belcher, Christopher Baehr, Kris Richardson, Andre Palmer, Plos one, 2017
Targeting the Cancer Cell Lysosome with Transformable Peptide Nanoparticles, Chris Baehr, Lei Wang, Kit Lam, The American Association for Cancer Research Annual Meeting, 2018
Honors and Awards
Earle C. Anthony Fellowship 2016
D. A. Dickey Scholarship 2015
Scarlet and Grey Grant 2015
Warren G. and James M. Elliott Scholar 2013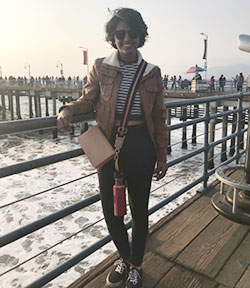 Shivani Bansal
Research Interests
I am trying to figure why peptides behave with membranes the way they do and how this can be explored to look for broad spectrum anti-fungal drugs. More specifically, I am developing a tool that will help me look for peptides that will have anti-fungal properties and can be developed as peptide-based therapeutics. I use techniques like OBOC to help me screen millions of peptides for membrane activity and then pick those peptides and interrogate their membrane activity further.
Awards
I presented my project as a poster at The Bryan Miller Symposium organized by the department of chemistry as well as at Gordon Research Conference: Chemistry and Biology of peptides.
Personal Interests
If I'm not in lab you would find me exploring a city, looking for off-the-beaten-track places to visit, taking pictures of (and maybe smelling) flowers, enjoying a nap in the sun or reading a book!!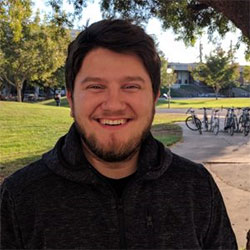 Andy Domokos
Andras (Andy) Domokos is an organic synthetic chemist pursuing his PhD in Chemistry. He received his Master's in Pharmaceutical Chemistry in 2019 from UC Davis for the synthesis of unique pi-conjugated heterocyclic compounds and polymers for the development of more efficient organic electronic materials. Afterwards, Andy worked as a researcher synthesizing telodendrimers and nanoparticle-based drug delivery systems for clinical trials, all while utilizing cGMP-based guidelines specified by the FDA. Through these experiences, he noticed the juxtaposition of polymers used for organic electronic materials and phototheranostic agents in nanoparticle delivery systems, leading to his interest in adapting the highly conjugated systems, commonly used for organic electronic materials, for use with nanoparticle delivery systems for a multifaceted approach to the treatment and identification of diseases in the human body, such as various cancers.
Select Publications
Domokos, A.; Aronow, S. D.; Tang, T.; Shevchenko, N. E.; Tantillo, D. J.; Dudnik, A. S. Synthesis and Optoelectronic Properties of New Methoxy-Substituted Diketopyrrolopyrrole Polymers. ACS Omega, 2019, 4, 9427-9433.
Szente, L.; Singhal, A.; Domokos, A.; Song, B. Cyclodextrins: Assessing the Impact of Cavity Size, Occupancy, and Substitutions on Cytotoxicity and Cholesterol Homeostasis. Molecules, 2018, 23, 1228.
Awards
Bradford Borge Fellow, 2020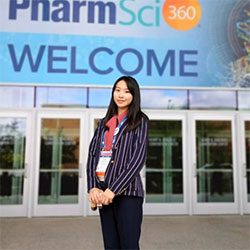 Ruiqi Huang
II obtained my bachelor with a major in Pharmaceutical Sciences at Shenyang Pharmaceutical University in China. Then I got my M.S. at University of the Pacific with a concentration on Pharmaceutics and Drug Targeting Delivery. During my master studies, I have been the Chair of AAPS Student Chapter at University of the Pacific. I joined the Chemistry Ph.D. program at UCD in 2020. My current research interest is focusing on developing novel nano-scaled targeting delivery systems caring chemotherapeutics for anticancer applications. Out of school, I like dancing, singing, traveling and photography.
Selected Publication and Presentation:
Huang R, Gyanani V, Shen Zhao, et al. "Imidazole-based pH-sensitive Convertible Liposomes - Turning Stealth Liposomes into Cationic Liposomes for Anticancer Drug Delivery" Poster Presentation at American Association of Pharmaceutical Sciences (AAPS) PharmSci 360, November 2019.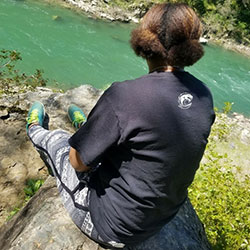 Diedra Shorty
Diedra Shorty, yes that is her real last name, is a graduate student in the Chemical biology program within the chemistry department. Her project focuses on using OBOC to design assays and peptides to recognize and target integrins. She graduated from Clayton State University in Morrow Georgia with a BS in Chemistry and a minor in physics. During her time there she investigated the optimization of radiotherapies using computational physics, structural optimization of the Pirin metal complexes using quantum and molecular dynamics and functional analysis of Vinculin. It was the latter project that influenced her to join the lam lab and continue work on protein chemistry.
When she isn't in lab anguishing over her most recent failed experiment Diedra likes to hike, play video games, have board game nights and terrorize both her cat and her fellow chemist. After graduate school she hopes to go into industry and work as a medicinal chemist with the potential to start her own pharmaceutical company. So yeah… That's Diedra.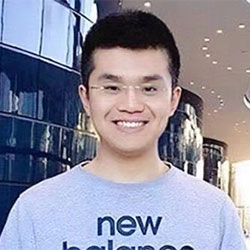 Yongheng Wang
My major is biomedical engineering. I worked on in vivo CRISPR gene editing and drug delivery at Massachusetts Institute of Technology, tissue engineering and single-cell sequencing at Harvard and drug delivery at Yale. Currently, I am working on a few research projects under the instruction of Dr. Kit Lam, Dr. Aijun Wang and Dr. Diana Farmer. Oh, I am a wine drinker.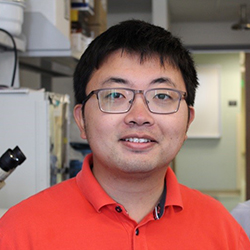 Xingjian Yu
I received my Bachelor degree in chemistry from Sun Yat-Sen University at Guangzhou and The Hong Kong Polytechnic University in 2015. I then joined the National University of Singapore and received my MSc in chemistry in 2017. Later I departed for UC Davis to pursue my Doctorate degree. My current research focuses on developing specific covalent ligation strategies to address practical problems in targeted therapy and drug delivery, which requires interdisciplinary skill sets in chemistry, biology and many related fields.
Outside the lab I usually spend my spare time on computer games, movies and readings, while I am still exploring more options, including cooking, gym and so on.