Graduate Students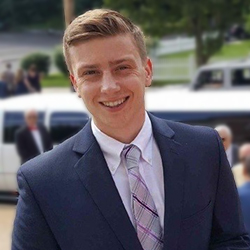 Chris Baehr
Chris Baehr is a biomedical engineering PhD student specializing in self-assembling peptide nanoparticle platforms for cancer therapy, in addition to merged optical coherence tomography and scanning laser ophthalmoscopy for live in vivo imaging of drug fate. He obtained his B.S. in biomedical engineering at The Ohio State University where his research focused on hemoglobin biopolymers. Outside of the lab Chris worked as the Biomedical engineering student association outreach chair, where he organized STEM focused outreach events for the local community. In his free time Chris enjoys skiing, rock climbing and backpacking.
Selected Publications and Presentations
Mixtures of tense and relaxed state polymerized human hemoglobin regulate oxygen affinity and tissue construct oxygenation, Uddyalok Banerjee, Donald Belcher, Christopher Baehr, Kris Richardson, Andre Palmer, Plos one, 2017
Targeting the Cancer Cell Lysosome with Transformable Peptide Nanoparticles, Chris Baehr, Lei Wang, Kit Lam, The American Association for Cancer Research Annual Meeting, 2018
Honors and Awards
Earle C. Anthony Fellowship 2016
D. A. Dickey Scholarship 2015
Scarlet and Grey Grant 2015
Warren G. and James M. Elliott Scholar 2013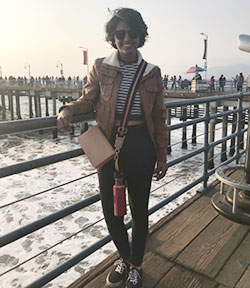 Shivani Bansal
Research Interests
I am trying to figure why peptides behave with membranes the way they do and how this can be explored to look for broad spectrum anti-fungal drugs. More specifically, I am developing a tool that will help me look for peptides that will have anti-fungal properties and can be developed as peptide-based therapeutics. I use techniques like OBOC to help me screen millions of peptides for membrane activity and then pick those peptides and interrogate their membrane activity further.
Awards
I presented my project as a poster at The Bryan Miller Symposium organized by the department of chemistry as well as at Gordon Research Conference: Chemistry and Biology of peptides.
Personal Interests
If I'm not in lab you would find me exploring a city, looking for off-the-beaten-track places to visit, taking pictures of (and maybe smelling) flowers, enjoying a nap in the sun or reading a book!!
Samantha Feng
Samantha is a grad student in Pharmacology and Toxicology program. Her project works on site-specific immunoglobulin conjugation with the linker technology discovered via OBOC screening. Her passion for science goes beyond bench side. From her thesis, she filed a patent and participated at business competition. The team leveraged the research data to formulate a pitch and got second place winner.
Outside of lab, she enjoys outdoor activities, leisure instrument playing and explores different cuisines.
Honors/Awards
2016-2018 American College of Toxicology Fellowship Recipient
2016 SOT Biotechnology SS Student Achievement Award Recipient
Fall 2015 UC Davis GSA Travel Award Recipient
Publications
Lac, D.; Feng, C.; Bhardwaj, G.; Le, H.; Tran, J.; Xing, L.; Fung, G.; Liu, R.; Cheng, R. H.; Lam, K. S. Covalent chemical ligation strategy for monoclonal and polyclonal immunoglobulins at the nucleotide binding sites. Bioconjug Chem 2015
Patents
Lac D, Feng C, Bhardwaj G, Lam KS. Site-Specific Covalent Chemical Ligation to Monoclonal and Polyclonal Immunoglobulin. U.S. Provisional Application #62/144,710
Shabnam Jafari
I got my BS in chemistry from Sharif University of Technology in Iran. Then I moved to US in 2014 to obtain my MS degree in organic chemistry from Southern Illinois University-Edwardsville. Currently I am a PhD candidate in UC Davis and working on multiple projects. My main project is development of molecular rotor dye containing sensors for detection of opioids and plasma proteins which requires synthesizing of molecular rotor dye derivatives, preparing OBOC combinatorial peptide libararies, optimizing a novel screening method for such sensors and development of biological assays with these sensors. Some other projects that I have been working on are protein biotinylation quantification using novel illuminating peptide-dye conjugates, genetically encoded small illuminant (GESI) as a novel technology for functional imaging in living cell, etc.
I am mainly interested in organic chemistry with applications in biology and medicine and I believe that life is short, so we must do stuff that matters!
List of Awards and Honors:
R. Bryan Miller Best Poster Award
Mar 2018-University of California Davis
GRC Young Investigator Poster Competition (First Prize)
Feb 2018-Gordon Research Conference, Chemistry & Biology of Peptides
LSAMP STEM Symposium Best Presenter Award
Feb 2016-LSAMP STEM Symposium
Thomas D. Bouman Memorial Research Scholar Award
Feb 2016- Southern Illinois University Edwardsville  
Academic Achievement Award
Dec 2015-Southern Illinois University Edwardsville
Erasmus Mundus Scholarship in ASC (Advanced Spectroscopy in Chemistry)
May 2013-Erasmus Mundus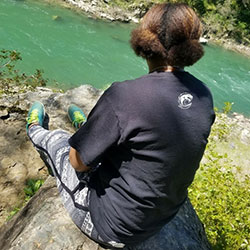 Diedra Shorty
Diedra Shorty, yes that is her real last name, is a graduate student in the Chemical biology program within the chemistry department. Her project focuses on using OBOC to design assays and peptides to recognize and target integrins. She graduated from Clayton State University in Morrow Georgia with a BS in Chemistry and a minor in physics. During her time there she investigated the optimization of radiotherapies using computational physics, structural optimization of the Pirin metal complexes using quantum and molecular dynamics and functional analysis of Vinculin. It was the latter project that influenced her to join the lam lab and continue work on protein chemistry.
When she isn't in lab anguishing over her most recent failed experiment Diedra likes to hike, play video games, have board game nights and terrorize both her cat and her fellow chemist. After graduate school she hopes to go into industry and work as a medicinal chemist with the potential to start her own pharmaceutical company. So yeah… That's Diedra.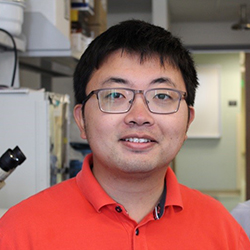 Xingjian Yu
I received my Bachelor degree in chemistry from Sun Yat-Sen University at Guangzhou and The Hong Kong Polytechnic University in 2015. I then joined the National University of Singapore and received my MSc in chemistry in 2017. Later I departed for UC Davis to pursue my Doctorate degree. My current research focuses on developing specific covalent ligation strategies to address practical problems in targeted therapy and drug delivery, which requires interdisciplinary skill sets in chemistry, biology and many related fields.
Outside the lab I usually spend my spare time on computer games, movies and readings, while I am still exploring more options, including cooking, gym and so on.